Oprah: Where Are They Now?
Language: English Release Date: 02 October 2012 Genres: Talk Time Period: 2010s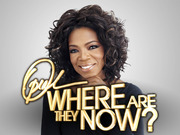 PREV AIRED EPISODE
"Ricky Schroder, Rudy Giuliani and Dramatic Weight Loss Stories"
Fri, May 02 2014 at 8:00PM EDT on OWN
PREV AIRED EPISODE
"Hulk Hogan, Carrot Top and J. Lo's Former Husband Cris Judd"
Fri, May 02 2014 at 9:00PM EDT on OWN