Who Wants to Be a Superhero?
Language: English Release Date: 27 July 2006 Genres: Reality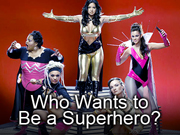 PREV AIRED EPISODE
"Superheroes must get through a pack of attack dogs."
Season 2 : Episode 7
PREV AIRED EPISODE
"The heroes learn to jump, fly and fight like real superheroes; Dr. Dark's identity; the winner."
Season 2 : Episode 8