WWE Friday Night SmackDown!
Language: English Release Date: 09 September 2005 Genres: Pro wrestling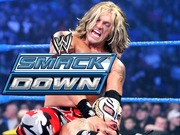 NEXT EPISODE
"Triple H explains the reformation of the legendary faction, Evolution."
Season 14 : Episode 15
Fri, April 18 2014 at 8:00PM EDT
SYFY
LAST EPISODE
"New WWE World Heavyweight Champion Daniel Bryan & The Usos vs. Orton, Batista & Kane."
Season 14 : Episode 14
Aired Fri, April 11 2014